Prepare and pass your exam
Pauk is an app where you can create your own flashcards and learn them fast. It will improve scores on your assessments. Pauk uses a combination of scientifically proven methods to learn your flashcards.
6 Level Flashcard System ac. to Sebastian Leitner  – Spaced Repetition option (SRS) – super easy creation of new learning cards – supports math formulas via LaTex, math flash cards app – Multiple Choice – Windows / Android – Dropbox sync of flashcards – Speech to Text Writer – automated translation – Text to Speech Reader.
Speech to Text Writer (STT)
Speech to Text Writer (STT): Tired of typing all these questions and answers? Now you can use your microphone to convert your speech to text in real time. Simply speak your questions and answers in the mic and the system types it automatically and without spelling errors.  This is an extremely quick way how to create many cards with ease
Text to Speech Reader (TSS)
Text to Speech Reader (TSS): Read cards out loud by the build in Text to Speech Reader. Useful e.g. to check for typing errors. Our ear can spot immediately if the voice reading your text sounds wrong.
Also, listening to and at the same time reading your Cards will have a positive learning effect. Combine visual, auditory and reading/writing type of learning.
Automated translation
Automated translation: Do you need to have one language for your question and another one in your answer? You can use the build in google translator to translate vocabulary or whole sentences immediately and without typing. Even more advanced:  Combine it with the Speech to Text Writer with the Translator: Use the Speech to Text Writer to automatically type in your question or vocabulary and translate it with one click in the language of your choice. Doesn't get more simple.
Learn plans through statistics
Of course you have a feeling for how long it takes to get a grip on your subject – but do you know for sure? You will usually only know after the fact. Collecting statistical data after each Flashcard learning session can help you anticipate how many days or how many repetitions you need to learn a similar topic in the future. Of course, this measurement varies from person to person and also depends on the complexity of the subject and how you write your flashcards.
If you use a tool like Pauk to prepare your tests, the tool will output (after a few learnings) your personal lead time to prepare a topic to perfection. These can be the days you need to start in advance or the number of repetitions you need to master a subject. Soon, you will know these figures for all learning situations. This information is useful to determine the time you need to learn the information properly without over preparing.
Card Sorter
Card Sorter: While learning, you may realize the need to correct the content of some cards, add new cards at specific places in a deck, change the sequence in which cards will show up for repetition, move a card a few places forward etc. The Card Sorter is the perfect way to do this. The Card Sorter is a graphical user interface which gives the student a good overview on the whole Deck and can do the following:
move the cards with your mouse to another place
duplicate cards [Ctrl + D]
delete cards [Del]
change the size of the view [Ctrl + Mouse Wheel]
Learn your Power Point speeches
Good memorization of your ppt slides and run a common & clear thread through your presentation is key to get your message out. It's also extremely helpful if you suffer from speech anxiety. If you are 100% sure you will remember your text, speech anxiety will be much less of an issue.
To properly prepare a Speeche or Presentation, Microsoft PowerPoint slides can be imported into the Learning System. In doing so, Pauk will automatically distribute the content of the slides on the question- and the answer card.
You can learn your speeches offline on your Laptop. No mirror, empty chamber or good friends to practice needed.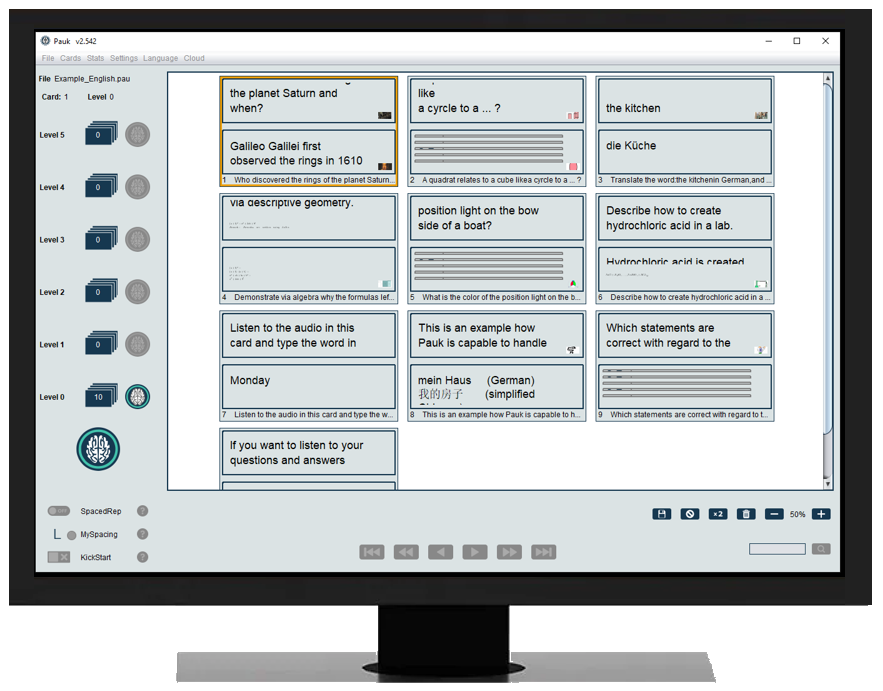 Leitner System

The Leitern System is famous, you can read about here. Exercising your knowledge is vital! You can review your subjects in six levels (Card Boxes). Mastering the highest level guarantees that every fact will be permanently imprinted in your long term memory. Cards not answered correctely, will always fall back to level 0 and have therefore to be repeted again. 
Spaced Repetition (SRS)

Spaced repetition is a learning technique which utilizes increasing intervals of time between each subsequent review of the material that you have previously learned. The calculation of the length of each of these review periods in based on a Fibonacci sequence is are automatically adapted to your learning style.
KickStart Learning Mode

Use KickStart if you want to learn a subject for the very first time. Kickstart automatically sizes a deck of cards in ideal portions and repeats incorrect answers more quickly – in order to overwrite false memorization early in the learning process.
Pauk